Winter returned this weekend, reminding us that it's only February, that March is truly a Lenten month, and it's insanity to expect Spring-like weather before Oberon Day (27 days and counting).
Still, the sun was out and February is almost over, and I wanted to try something new. I had a pretty good-sized flank steak sitting in the freezer from a run out to the butcher about six months ago that I didn't want to move to my new place when I eventually move out of my current digs, and I opted to try out a recipe that I had found on a blog a few weeks ago (available here).
I'm not really a person who's big into peppers, which is one of the reasons that I stay away from fajitas in Mexican restaurants. It was odd to load my crock pot to the brim with them, turning it into one of the most colorful things I've seen in a long time.
I left the crock pot to do its thing for about 7 hours, and was surprised to come back to the crock pot and find that the contents had reduced themselves by about half. I shredded the flank steak, put it on some toasted corn tortillas, added some fresh cilantro, and topped with fresh, homemade salsa.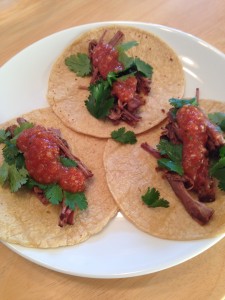 ABOUT THAT SALSA
As I was dreaming of carnitas earlier last week, I was trying to decide what I was going to put on them. Cilantro was a natural choice, and I'm all for lime juice. If I was making carnitas for a crowd, avocado slices would be a great call, but I wasn't going to eat enough carnitas to use up an entire avocado in one sitting. I decided that what I should really shoot for was some salsa. My brother had gotten me a cookbook for Christmas, and in there I found a recipe for a salsa roja (available here).
I made a few adjustments to that recipe. I went with about 5 hydroponic tomatoes, which in Michigan in winter, weren't probably the best things to start with. I also used 4 of the biggest cloves of garlic I could find in the head. The tomatoes and onion went in the 400 degree oven for about half an hour, and then I added the garlic for another 15, removing them to find nothing burned or browned too badly.
After I had allowed the tomatoes and onion and garlic to cool, I threw them in the food processor with the toasted spices and pulsed for a few seconds, and was initially very surprised at how thin the salsa became. It was less the thick-and-chunky-Tostitos-kind and more along the lines of what I'd find at a local Mexican restaurant. Deciding to roll with it, I added another half teaspoon of ground chipotle pepper and a few stems' worth of cilantro leaves.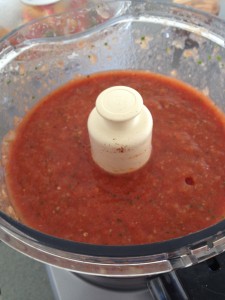 I wound up with way more salsa than I was expecting, about 9 cups. We'll see how much of it remains by the end of the week, after I've exhausted my supply of seasoned meat and tortillas. It's going to be a delicious week of dinners.